These watches are inspired by a timeless aesthetic of the original Stewart Dawson collections. With this vintage spark, we have proposed a new form based on historic pocket watch models. Our wrist watches maintain the original concept of a hinged dust cover, that discretly protects the message engraved on the underside of the watch, while the top has the traditional wrist watch crystal.
1st Limited Edition Belgravia Collection by Stewart Dawson
British Military Inspired Automatic Watch
Belgravia watch, inspired by British military tradition with contemporary fashion and personal engraved message on the caseback.
The Stewart Dawson Belgravia Collection has a unique timeless style and design. Our objective is to restore the ancient glory of the British brand by David Stewart Dawson, who was one of the most influential Masters of Watches from the last century. This refined brand heritage has been enriched with our vision of the future.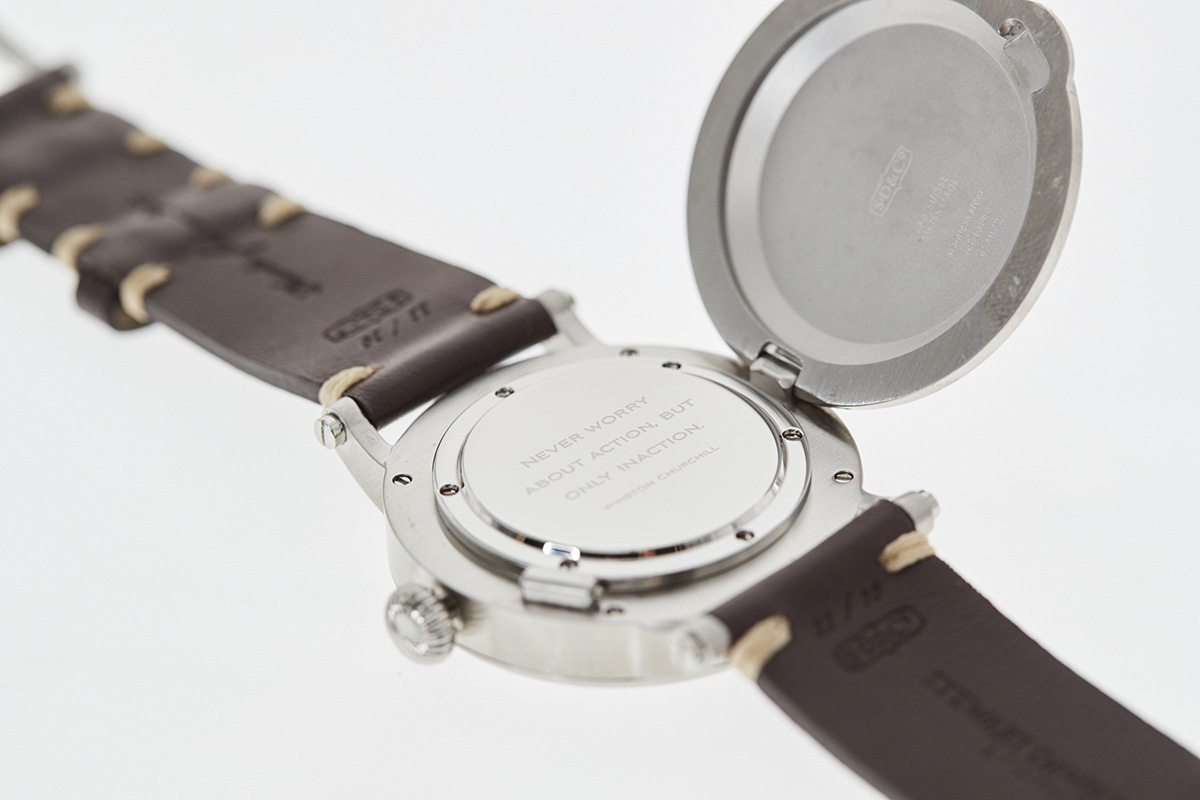 The personalization of the engraved caseback is one of the exclusive elements of distinction of the Belgravia Collection. Each style could be personalized with an inscription engraved in the hidden caseback, to dedicate a special message, a quote or your initials. A personalized as well as exclusive timekeeper is now the maximum statement for individual style. The opportunity to have an individual and personal message engraved has a great added value for the wearer, in terms of gratification, importance and pride of wearing a unique timepiece.
Stewart Dawson Watch and Clocks was a brand deeply rooted in the Britain watchmaking tradition. David Stewart Dawson started his own watch and jewelry brand in 1871 in Liverpool at the age of 22 years old. The brand has been recently relaunched with this first Belgravia Collection, its soul in keeping with the original brand's legacy.
The first Belgravia Collection is a contemporary interpretation of the historical pocket watch ( French montre de poche ) the onion-shaped recognized as an elite object since 1400. Developed with the invention of the spring mechanism in the fifteenth century, the first creator Julien Coudray was credited with a hinged cover that protects the bottom of the watch. This model provided a way of keeping time before the invention of the wristwatch in the second half of the nineteenth century.
Our timepiece is a product rich in meticulous details and components that make it absolutely unique.
These high quality leather straps are handmade in Italy by Italian artisans.
Designed to fit very comfortably and elegantly on the wrist. The leather straps and buckles are personalized with the Stewart Dawson logo.